cars & Coffee- St. Petersburg, FL
09-15-2008, 03:05 PM
Join Date: Mar 2008
Posts: 25
cars & Coffee- St. Petersburg, FL
---
Hope to see you there.

WHO: Owners/Collectors of Classic, Luxury, Exotic, or just plain "fun" automobiles

WHAT: "Cars And Coffee" - looking for an excuse to drive your favorite toy?

WHEN: The 3rd Saturday of this month – September 20th, 7AM - 9AM

WHERE: duPont Publishing Headquarters - East Parking Lot - 3051 Tech Drive - St. Petersburg, FL 33716
10-15-2008, 04:15 PM
Join Date: Mar 2008
Posts: 25
October's Cars & Coffee
---
WHO: Owners/Collectors of Classic, Luxury, Exotic, or just plain "fun" automobiles

WHAT: "Cars And Coffee" - looking for an excuse to drive your favorite toy?

WHEN: The 3rd Saturday of this month – September 20th, 7AM - 9AM

WHERE: duPont Publishing Headquarters - East Parking Lot - 3051 Tech Drive - St. Petersburg, FL 33716
02-18-2009, 10:16 AM
Join Date: Mar 2008
Posts: 25
We have been maxed out on space the past few months. It's amazing how many people will jump up early just to talk about cars!
btw, not sure if this is somewhere else in this forum, but I always enjoy reading the
One Year with a Ferrari blog
and thought I would share.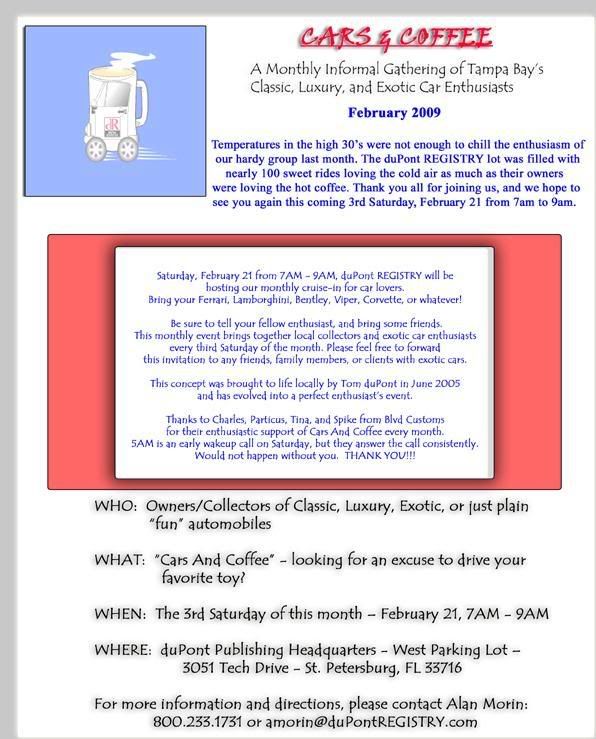 Thread
Thread Starter
Forum
Replies
Last Post
Currently Active Users Viewing This Thread: 1
(0 members and 1 guests)